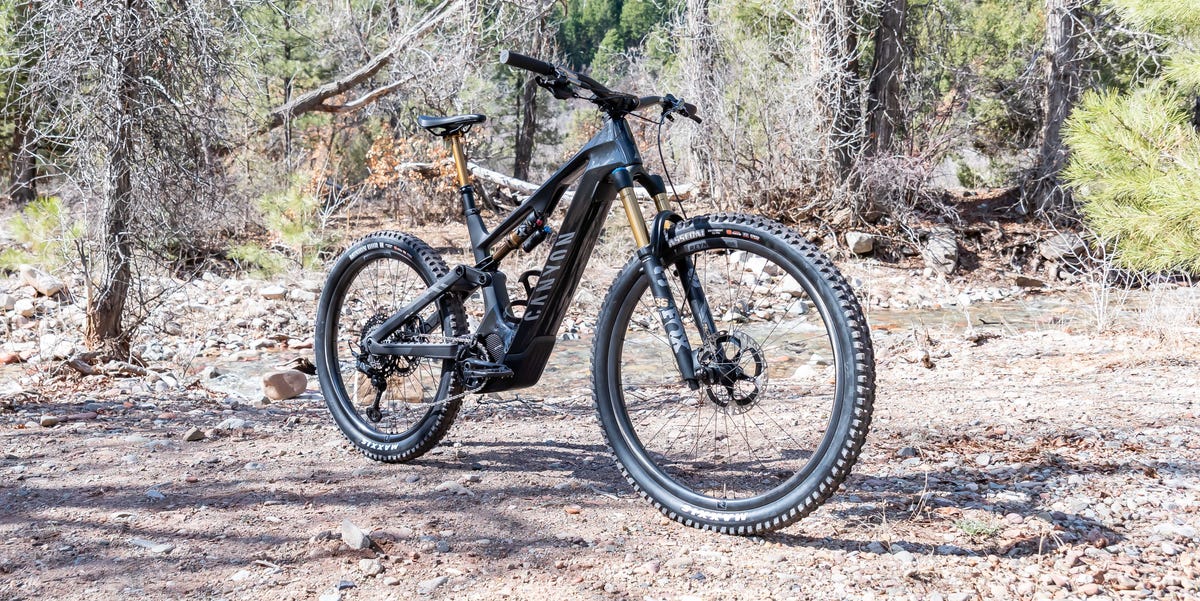 Canyon Spectral 2022:ON | Best Electric Bikes
The takeaway: Massive batteries, lighter frame and new geometry for Canyon's first e-trail bike
Five models in the world, CFR LTD, CFR, CF9, CF8, CF7
Three models for the United States: CFR, CF8 and CF7
Mixed wheels with 155 mm rear travel and 150 mm front.
Sizes: small, medium, large, extra large
CFR, CF9 and CF8 in medium to extra large sizes have 900 Wh batteries, one of the largest available on any e-mountain bike today.
The CF7 has a stock 720 Wh battery, but medium to extra large sizes can be upgraded to a 900 Wh battery.
Small size bikes cannot fit the physically larger 900Wh battery and run at 720Wh. Due to the smaller battery size, smaller size CFR, CF9 and CF8 bikes are cheaper than larger size bikes.
Price: CFR $10,500 with 900 Wh battery, $10,150 with 720 Wh battery | CF8 $6,999 with 900 Wh battery, $6,499 with 720 Wh battery | CF7 $5,999
Claimed weight (average): CFR 48.1 lbs. (720Wh) / 50.1lbs (900Wh) | CF8 50.8 lbs. (720Wh) / 52.8 lbs (900Wh) | CF7 50.8 lbs. (720Wh) / 58.8 lbs. (900Wh)
---
Hot on the heels of last month's launch of the Spectral 125 comes Canyon's latest: A new Spectral:On e-mountain bike. This mixed wheel trail bike has 155 rear travel with 150 up front – not a misprint – a bit more travel in the rear than the front, a Shimano EP8 motor and very good batteries. big for long days on the trails. In the US, models start at $5,999 with the top-of-the-line CFR with the best-selling battery at $10,500.
Outside the US, you can buy a CFR on Canyon's website starting April 5 with CF models arriving on the site in May. However, if you are in the United States, you will need to be more patient. CF models arrive here "in late spring" with CFR models available in "fall".
I received my CFR review sample just before today's launch and haven't had a chance to spend enough time on the bike to provide any riding impressions. I will post a review when I have enough time on the bike.
Canyon Spectral:ON—Motor and Battery Details
Like its previous generation, the new Spectral:ON features Shimano's excellent EP8 motor with 85Nm of maximum torque. Although it's heavily covered, enough shows to see it sits at a casual 30 degree angle into the frame. This allows Canyon to position the battery lower in the downtube, lowering the bike's center of gravity. The inclined motor trick is also used by Norco's later Sight VLT models.
Almost all models (more on that in a moment) get a massive 900Wh battery for long playtimes. For comparison, the Specialized Levo has a 700 Wh battery, Trek's Rail has a 750 Wh battery, Yeti's 160E has a 630 Wh battery, Pivot's Shuttle has a 726 Wh battery, and the new Heckler from Santa Cruz has a 720 Wh battery. Norco's VLT is, currently and as far as I can tell, the only other e-trail bike with a 900 Wh battery.
Now the battery stipulations. All small Spectral:ON models run on a 720Wh battery: the 900Wh battery is too large to fit in the small frame. Small size models sell for less because of this change. All sizes of CF7s get a 720Wh battery, which is still quite large, and mid-size and larger CF7s can be upgraded to a 900Wh battery. Canyon was priceless but expect it to be around four figures.
Compared to the previous generation Spectral:ON with its 630Wh battery, Canyon Materials claims the 900Wh battery offers 42% more battery life while the 720Wh battery is good for a 15% increase .
Canyon Spectral:ON—Frame Details
Like the previous generation, the new Spectral:On rides on mixed wheels, with a 27.5 wheel in the rear and a 29-inch wheel up front. Rear travel is 155mm, up five from the previous generation, with a 150mm fork up front.
The Spectral:ON frame gains for the first time a carbon fiber rear triangle: previous generations used an aluminum rear part. Canyon engineers moved away from the frame, resulting in a "massive" weight reduction over the previous generation, though they didn't offer a number. They came up with frame weights: the CF frame weighs seven pounds and the CFR frame weighs 6.3 pounds. It is without shock absorber, battery or motor of course. The frame is also stiffer than previous generations, with more durable pivots, Canyon claims.
Any weight savings found in the new frame is more than consumed by the larger battery. My CFR review model weighed 50.5 lbs. approximately 1.5 lbs. more than the previous generation CF9, which had a build kit similar to the new CFR, I weighed.
The new Spectral:On features a much cleaner front end thanks to revised hose, wire and housing routing. The bar has internal routing for the motor remote that exits in the middle of the bar just ahead of the head tube. From there, all the spaghetti goes through the top cover of the helmet and into the frame.
Canyon Spectral:ON—Geometry
As you would probably expect, the new Spectral:ON gets a new geometry that is, let's say it all together, lower, longer and slacker than before. Overall, the geometry strongly resembles that of the Spectral 29. Still Canyon is quick to point out, "It's not the slacker, longer, more progressive e-MTB on the market. And for good reason-[We were not] aiming to build an E-Gravity or E-ECnduro bike.
All sizes have a handy bump: the small size gets a 10mm bump at 435mm, the medium 15mm at 460, the large 20mm at 485, and the extra-large 25mm at 510mm. The head tubes slack a degree and now sit at 65.5, while the seat angle gets two degrees steeper and is now 76.5 degrees. The chainstays get a five-millimeter bump, now 440, which, in combination with the slacker head angle, increases the wheelbase lengths. Small, medium and large wheelbases increase by 25 millimeters, while the extra-wide wheelbase jumps from 36 mm to 1,281 mm.
The travel of the dropper post is size specific. The small frames have 125mm of travel, the medium ones have 150 and the large and extra large frames have 175mm of travel.
Canyon Spectral: ON—Building Kits
The United States receives three models: the CFR, the CF8 and the CF7. All three use a Shimano EP8 motor, Shimano drivetrain (34t ring and 10-51 cassette) with 165mm cranks and Shimano four-position brakes with 203mm rotors front and rear. All models are equipped with a Maxxis Assegai 29×2.5" front tire with EXO casing and a DHRII 2.6" 27.5" rear tire with EXO+ casing, Fizik Aidon saddle and Canyon lockout on the grips.
CFR – $10,500 with 900 Wh battery, $10,150 with 720 Wh battery
FOX Factory 36 GRIP2 fork, FOX Factory Float X shock, FOX Factory Transfer dropper, Shimano XTR drivetrain, Shimano EM900 cranks, Shimano XTR 4 piston brakes, Canyon HB00057 handlebar, Reynolds TRE309 wheels with carbon rims
CF8 $6,999 with 900 Wh battery, $6,499 with 720 Wh battery
FOX Rhythm 36 GRIP2 fork, FOX Performance DPS shock, Canyon Iridium dropper, Shimano XT drivetrain, Shimano EM600 cranks, Shimano SLX-4 piston brakes, Canyon HB00057 handlebar, Sun/Ringle Duroc wheels with aluminum rims
CF7 $5,999
RockShox Lyrik Select fork, RockShox Deluxe Select shock, Shimano XT drivetrain, Shimano EM600 cranks, Shimano Deore 4-piston brakes, Canyon HB00057 handlebars, Race Face AR30/AR35 rims with Shimano MT400/MT510 hubs