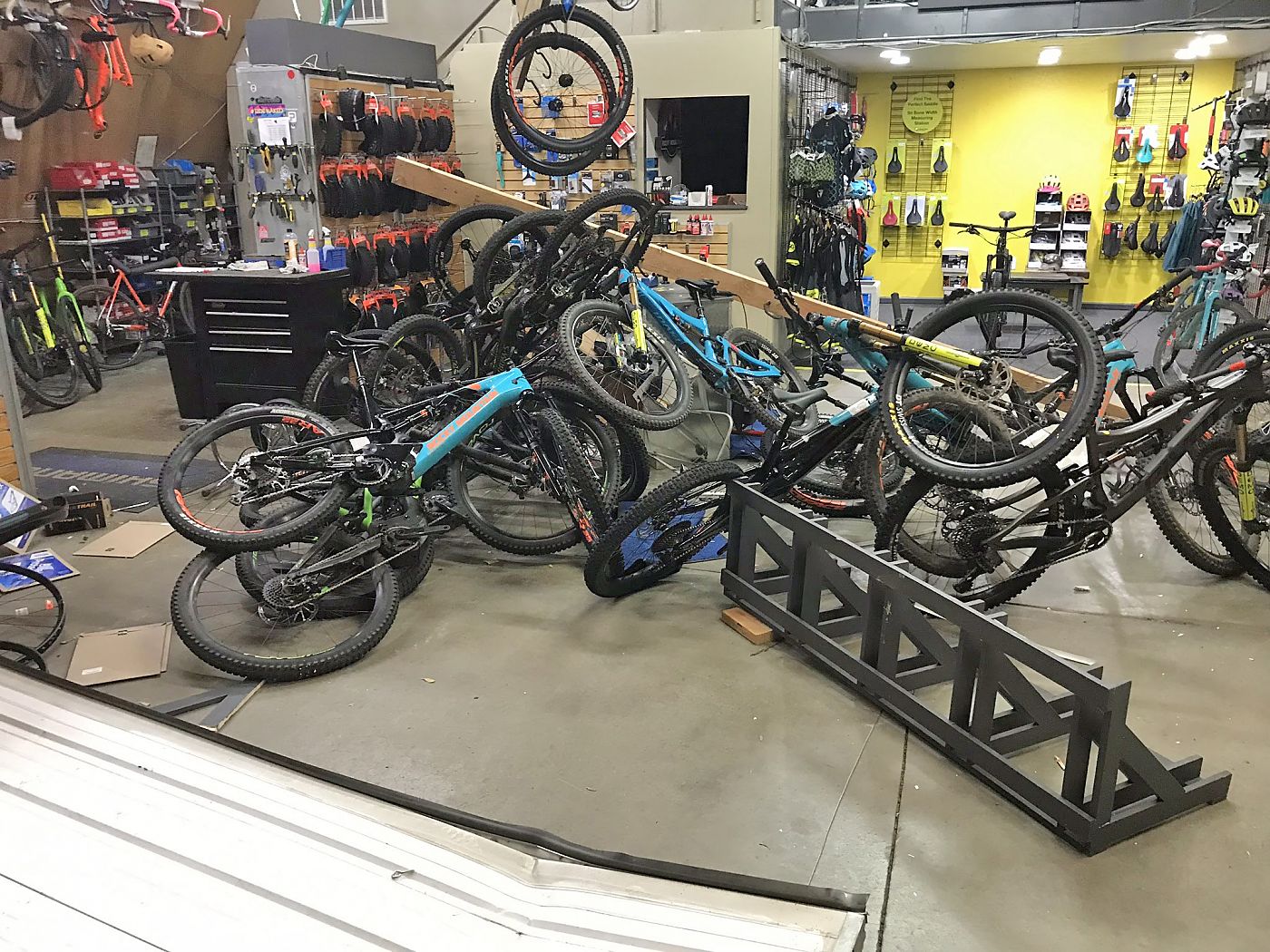 Colorado AG Charges 8 in Ring of Bike Shop Burglaries
In one case, the suspects allegedly stole $90,000 worth of bicycles in less than five minutes.
Some stores have been hit multiple times. Giant Cycling World in Littleton, for example, was hit four times, Totally Wired Cyclery in Fraser was hit twice in 10 days.
Prosecutors said they had "credible evidence" that the group worked with fences that quickly moved the bikes out of state and possibly into Mexico. The approximate value of the stolen bicycles is $985,000 and the approximate value of the stolen vehicles is $258,000. The total property damage between vehicles and businesses is $231,837.
"Auto theft and property crime have increased dramatically over the past two years. Together with our law enforcement partners, we have dismantled this multi-layered criminal enterprise that has harmed multiple businesses and nonprofits in mountain communities and the Denver and Boulder metropolitan areas. We will hold these individuals accountable for their actions and the harm they have caused to victims and our communities," Attorney General Weiser said in a statement.
Weiser said the AG's office worked with the Boulder, Denver and Littleton police departments, as well as the FBI, to investigate the case. According to the indictments, investigators gained access to Facebook Messenger communications between the men as they planned burglaries and the sale of the bikes. The indictments also refer to DNA evidence, fixed roadside license plate readers, red light cameras, retail security cameras, border crossing recordings, recordings bank and cellphone records that allegedly linked the men to the burglaries.
At least one indictment references photos and videos on the defendants' Facebook pages. It says that on Christmas Eve 2019, two defendants shared videos and photos on the social media site showing them with "large sums of cash and expensive bottles of liquor" in a hotel room. Bikes worth around $73,000 were stolen from the Boulder Specialty Experience Center on the night of December 23.
The eight defendants are variously charged with violations of Colorado's Organized Crime Control Act, first degree aggravated motor vehicle theft, second degree burglary, larceny and criminal mischief, in addition to other charges. The eight indictments include 227 counts in total.
The cases were filed in Boulder District Court on October 25. The defendants are Kevin Acosta-Larkin, Austin Butler, Gerald Garcia, Maurice Leday, Gregory Melina, Salvador Mena-Barreno, Jason Quijada and Adrian Rocha-Chairez. While most of the men have been charged with dozens of counts, including those of organized crime, Melina is only charged with five counts related to two burglaries in Longmont. Quijada is charged with a single count of aggravated motor vehicle theft. The indictments describe Adrian Rocha-Chairez as the fence of the group, who sometimes told others how many bikes were needed.
Retailers who suffered burglaries or damage cited in the indictments include: Boulder Cycle Sport, Boulder; Specialty Experience Center, Boulder; Cyclerie Redstone, Lyon; Giant Cycling World, Littleton; Evergreen Bicycle Outfitter, Evergreen; REI, Denver; The Bike, Littleton; Totally wired, Fraser; Guerilla Gravity, Denver; Foundation Cycles, Denver; Alpha Bikes, Denver; Mojo Wheels, Denver; Bicycle Village, Aurora; Base camp cycles; Denver; Bike Source, Highlands Ranch; Cenna Cycles, Longmont; NuLife Cycles, Longmont. The indictments also link some of the defendants to an unsuccessful break-in at Fay Meyers Motorcycle World in Greenwood Village.
Related: BRAIN spoke to several Colorado retailers who were victims of burglaries for a March 2020 article.