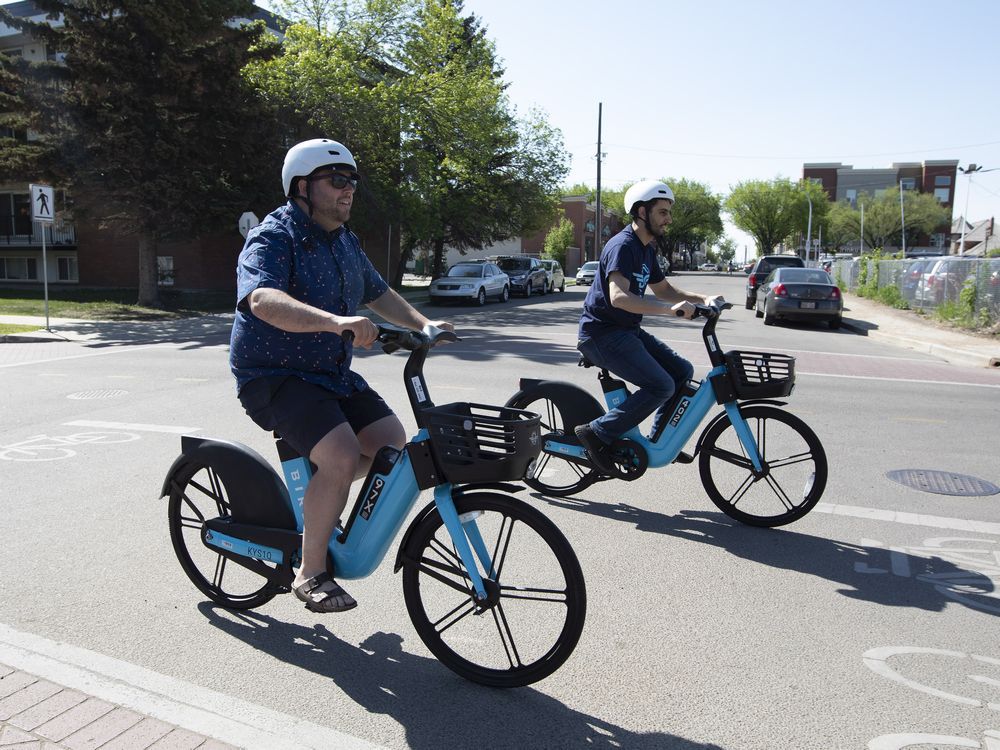 Complaints bring down rental electric scooter fleets in Edmonton; e-bikes are coming
"The summers are excellent in Edmonton and for traveling outdoors. Using active transportation isn't just good for our minds and bodies, it's good for the environment.
Content of the article
Electric street rental scooters and now e-bikes have started rolling out in Edmonton, but citizen complaints last year mean there will be fewer of them on the roads this summer.
Content of the article
The city announced on Friday that it had landed on two suppliers to offer a cumulative total of up to 1,500 e-scooters and 400 e-bikes through the end of 2023, significantly less than the 4,000 e-scooters ordered by the suppliers at the beginning of last year. Bird began deploying its fleet on Friday, and Lime arrives next week.
Spin, which rented electric scooters last year, will not be returning.
Jessica Lamarre, director of safe mobility and traffic operations, said the use of a competitive bidding process to choose only two companies was to blame for the delay. Last year's rentals were available at the end of March.
The city experimented with letting the market determine how much to bid, but they landed on a smaller fleet size based on complaints and the number available in other similar Canadian cities, Lamarre said.
"We received a lot of complaints from Edmontonians about the congestion of the number of vehicles moving around and how they were being used. So we started to reduce the size of that fleet," Lamarre told reporters on Friday.
Content of the article
She acknowledged that the scooters came out a bit later than the city would have liked, but Lamarre said she's glad they're back now. They create an alternative mode of transport and reduce traffic congestion, she said.
"Summers are great in Edmonton and…using active transportation isn't just good for our minds and bodies, it's good for the environment," she said.
"It activates our streets in a totally different way. So they're fun, of course, to get around, but they're also an option to help people connect, for people who are trying to get around.
E-scooters and e-bikes are not permitted on sidewalks in Edmonton. Cyclists can use them on cycle lanes, shared-use lanes and on roads with a maximum speed limit of 50 km/h.
Content of the article
'From Horse and Carriage'
Com. Michael Janz, who attended the announcement, called himself an e-bike enthusiast. He's thrilled that Edmontonians have the chance to try another climate-friendly way to get around before, perhaps, buying one themselves.
"It's going to be a transformation in transportation that hasn't happened since horse and carriage. You can cycle across the river valley on an e-bike with pedal assist, up and down both sides of the hill without even breaking a sweat. It's going to be so convenient," he said.
"There will always be growing pains with this small program, but what it will mean for the future of transportation in our city will be a game-changer."
'These are not toys': helmet recommended
Content of the article
Helmets aren't mandatory, but the city recommends people wear them, as does Edmonton emergency physician Dr. Louis Hugo Francescutti.
Last summer, Francescutti saw at least one person injured a week while riding an e-scooter — which he likens to a motorbike, but a bit slower.
"These are not toys," Francescutti said, adding that people who ride should familiarize themselves with them and exercise caution. "They go fast, and when you fall you can really hurt yourself."
From minor scratches and bruises to broken bones and severe concussions, speed was usually a factor in the injuries he saw at the Royal Alexandra Hospital. Often, Francescutti sees young men end up in the emergency room after crashing an electric scooter while riding with a group of friends.
"What eventually happens – peer pressure. They start racing them and they don't mix with traffic either," he said.
"At the bare minimum, wear a helmet when using them – and good luck."
Data from police crash reports in 2021 shows eight electric scooter crashes that resulted in three minor injuries and three serious injuries in 2021, and two property damage incidents. Further research is being conducted by the city, Alberta Health Services and the University of Alberta to understand the full extent of these types of injuries.