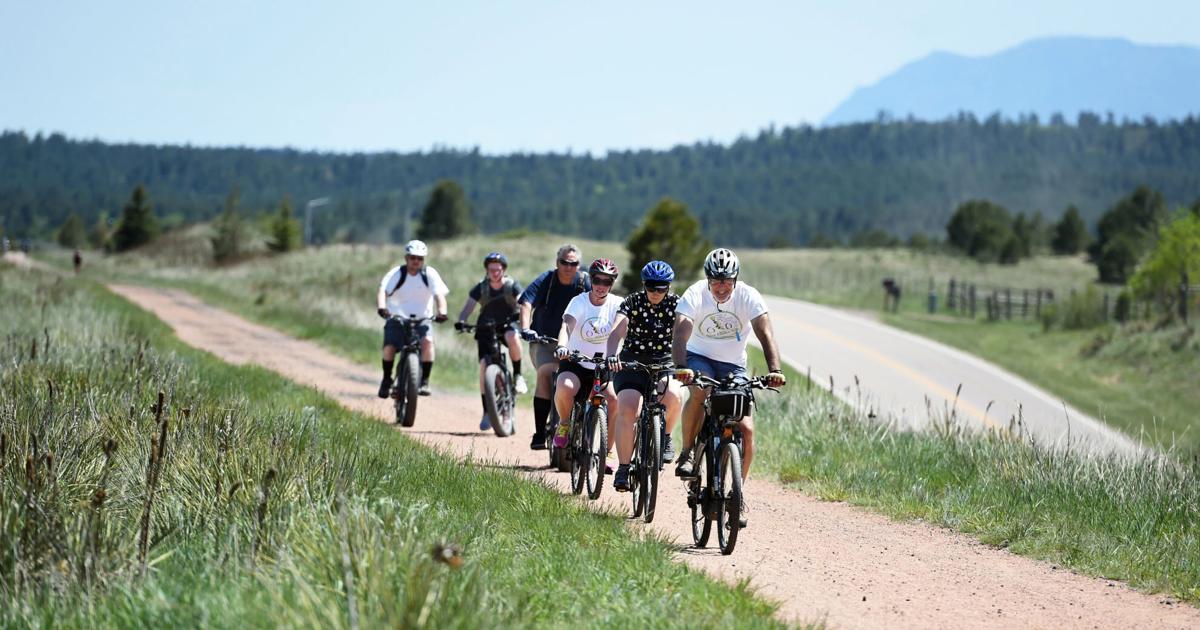 One Year After Trails Green Light Was Cancelled, E-Bikes Remain In Limbo In Colorado Springs | Way of life
Trails Are Common Ground is a national coalition of people who, in the group's own description, "work together to create a safe, inclusive, and respectful environment for anyone who walks, rides, or rides any trail." One of those people is Nancy Hobbs. She is an avid runner and organizer who sits on the Colorado Springs Trails, Open Spaces and Parks Working Committee.
On a recent call with other Trails Are Common Ground cohorts, the conversation turned to e-bikes.
"And the issues around them," Hobbs recalled. "What is the proper use of electric bicycles?"
With pedal- or throttle-activated motors giving a battery-powered boost, e-bikes have been the fastest growing sector of the cycling industry for years. They have also represented the most controversy. Some say it's life changing for the better, others say it's life changing for the worse – a threat to the overall trail experience.
With more e-bikes leaving stores for the trails, "Who's gonna watch this?" asked Hobbs. "And where is the right place to use them?
These are questions that still linger on the trails of Colorado Springs.
As of last Memorial Day, e-bikes were to be allowed in mountain parks and open spaces around the city during a year-long study into their long-term future. Amid the outcry, officials canceled the pilot program.
A year later, a decision on the technology has yet to be made. "No updates at this time," the city said in a request for comment.
A longer delay "results in more division and animosity within the trail community," said Cory Sutela, executive director of the Medicine Wheel Trail Advocates mountain bike group. "It leads to poor user interaction because the rules are unclear and not enforced, and it leads to less connection and shared stewardship overall."
Locally, e-bikes have been caught in a legal quagmire. With last year's announcement that they would be allowed where other bikes roam, opponents pointed to the city's voter-approved Trails, Open Spaces and Parks (TOPS) ordinance banning motors on the lands supported by this sales tax funded program.
Kent Drummond is among local e-bike riders and proponents who side with the federal definition of e-bikes as bicycles. He called the city's delay "disheartening."
"When other municipalities in Colorado have come up with acceptable guidelines for e-bikes," Drummond said, "why can't Colorado Springs follow the program?"
Jefferson and Boulder counties launched pilot programs and expanded e-bike access shortly after 2017. That year, state lawmakers legalized e-bikes on trails where other bikes were allowed , but granted jurisdictions the right to establish restrictions, opening up a regulatory hodgepodge.
Following a year-long study, the Fort Collins City Council last year greenlighted e-bikes on paved trails — where they are permitted in springs, as well as wide regional trails — while Larimer County officials decided to limit e-bikes in parks and open spaces to riders with disabilities.
This is when federal land managers are grappling with their own conditions.
A recent decision by the field office to include e-bikes on 30 miles of proposed trails in the North Fruita desert mountain bike destination represented the Bureau of Land Management's higher call to consider the increased number of users. Also recently, the US Forest Service issued similar guidelines for local ranger districts.
As others jump to conclusions, "I don't think we should be pressured into making a decision one way or another," said Bob Falcone, chairman of the TOPS working committee. "We have to look at what's best for this community."
What's best, he said, is public engagement on the issue — something some critics said was lacking in the Parks Department's previous administrative decision on the e-bike study. Elsewhere, elected councils voted to revise codes ahead of pilots.
The Springs' decision didn't address key points, Sutela said.
First, he said: a field or fields of study, rather than the previous proposal, free for all. "Second, you lay out what you want to measure and how you want to measure it. Third, we agree on what the standards should be, what the trail sharing etiquette is for e-bikes. It's a new group user who shares the track, and we need to talk about it in the right way."
This is a group that generally identifies itself as Drummond and his wife. He and Taydie are retired with physical limitations, but are looking to maintain their active and adventurous lifestyles.
E-bikes have been "liberating," Taydie said. And access to more trails, she said, "would mean that when we want to go for a ride with our son and our family, we can do it instead of worrying."
Sutela said he understood that. But with e-bikes becoming more affordable and their capabilities evolving, "the demographics we've seen in the past are not the ones we're going to see in the future," he warned.
Hobbs said she sees more loaded bikes passing by her on the trails. On the one hand, it's good to see that e-bikes are "opening up the trail user experience to a lot more people," she said. On the other hand, she worries about trail disputes and law enforcement.
The questions she asks on the Trails Are Common Ground appeals are questions that should be asked locally, Hobbs said.
"Exactly what needs to be embraced and considered," she said. "As multi-users, we need to work together to find that quote-unquote middle ground."