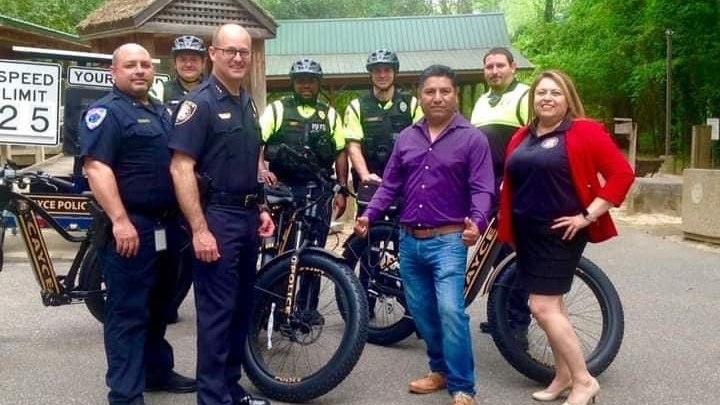 SC Police Department gets new 'electric bikes' to patrol the city
By David Travis Bland
The State (Columbia, South Carolina)
CAYCE, SC – Residents of Cayce will see officers ride on a new type of vehicle.
On Thursday, the Cayce Police Department unveiled its all-new e-bikes for officers. The department has added three e-bikes to its fleet.
"It is extremely important, and increasingly necessary, that police use every tool possible to take care of our cities," Cayce Police Chief Chris Cowan said in a statement. "Unique to Cayce is our pursuit of E-Tech to law enforcement efforts, adding solar power and electrical resources. This allows us to reduce our impact on the environment, reduce costs to taxpayers, and increase the speed and duration over which we can deploy resources – all part and parcel of our efforts to continue to make Cayce a safe place to live, work and play."
E-bikes are e-bikes that are more nimble than your typical police cruiser and require less manpower than a regular pedal bike. The bikes were paid for by Jim Hudson Automotive Group, according to a press release.
"We are very grateful to our new municipal partner, Jim Hudson Automotive Group," said Mayor Elise Partin. "Jim chose Cayce because, like us, he believes in community policing and is a good environmental steward."
E-bike officers will be patrolling throughout the city, Cayce spokeswoman Ashley Hunter said.
The bikes will allow the department to have a greater community presence in neighborhoods like the Avenues, where speeding is a persistent complaint from residents, Hunter said.
The Cayce Public Safety Foundation also purchased a new solar-powered "fast trailer". Speed ​​trailers are those portable, electric speed limit signs that flash if a driver is speeding.
Siteline Graphics made the decals for the bikes and trailers.
(c)2022 The State (Columbia, South Carolina)